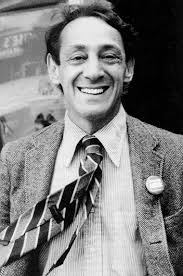 "It's not my victory, it's yours and yours and yours. If a gay can win, it means there is hope that the system can work for all minorities if we fight. We've given them hope."
– Harvey Milk, after winning a seat on the San Francisco Board of Supervisors in 1977
I first learned about Harvey Milk when he died. If you've heard of the Twinkie Defense, you've probably heard of Harvey Milk. He was a kind, compassionate, brave person who accomplished something bold and important.
If you haven't heard of Harvey Milk, read about him. The author of his biography, Randy Shilts, also wrote the most impressive and life-changing book I have ever read: And the Band Played On.
You can also watch a documentary about Harvey Milk. This film won an Academy Award.
Or, you can go to the movies one day during the holidays and see the new feature film, Milk. Sean Penn gives an open-hearted and  heartbreaking performance as Harvey. You can read about how the movie relates to current events here.
The struggle for gay rights continues, and if Harvey Milk were still alive, he'd be doing what he did in the '70s: organizing voters, developing leaders, encouraging people to stand up for their human rights, and giving people hope.
We always need activists, and when Harvey was killed, we lost a great one.